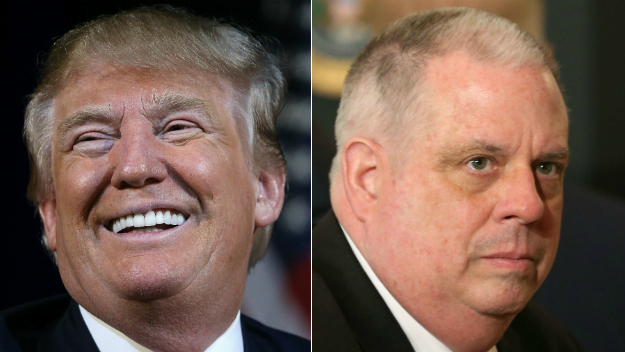 The Republican Governor of Maryland, Larry Hogan, has resisted speaking out on the racism and hate crimes that have happened in the state since the election. It's a mis-step in a deeply Blue State. Yesterday, he made a statement to the Baltimore Sun, suggesting that Marylander's "take a breath" and denied hearing about the many racist incidents that have taken place around the state.
Hate crimes increase in Maryland since election
Hate Crime Reports Have Increased in Maryland in Past Week
Hate-Fueled Crimes Up in Maryland
After being bombarded by calls from constituents in the last few weeks, the Governor had a statement that could be read to the people calling, but callers were told that he would not release it publically.  Apparently the fact that with only one exception, House Representative, Andy Harris from District 1 (Eastern Shore) every other Maryland Senator and Representative has spoken out about the hate crimes and defacement of property that has occurred doesn't seem to matter to the Governor that he should be following suit.
Governor Hogan has two more years to go as Governor.  Showing this lack of interest in something that is happening in his state is reprehensible.  While he refused to endorse Donald Trump after his preferred candidate, Chris Christie the deeply unpopular Governor of New Jersey who has been implicated in BridgeGate, his lack of response at this time is deeply troubling.  Governor, do you stand with the White-Nationalists and Racists or do you stand with the people of Maryland? 
The Maryland Attorney General, Brian Frosh, has launched a hotline for reporting hate crimes at 1-866-481-8361.  This is laudable, but the fact that Governor Hogan refuses to speak out against this is troubling.
People calling have said that the Governor's office says that this is a national issue and that our national representatives have stepped up so he doesn't have to.  This is incorrect.  He should be speaking up and making sure steps are taken to protect the people and property of Maryland.
What Maryland Residents Can Do
Since he isn't listening, it's time to make calls to our state legislators to also put pressure on him.  Calls are better than tweets, Facebook postings or emails since they aren't as easily ignored.  
Consider making calls to your state legislators and the Maryland Speaker of the House, Michael Busch. You can find your state legislators through Common Cause's Find Your Lawmakers Page. Please research out whether or not they have spoken out about the hate crimes. If they have, thank them, if not, ask them to speak out about the issue themselves as well as asking Governor Hogan to do so.
Michael Busch's information is: 
State House, H-101
Annapolis, MD 21401 – 1991
(410) 841-3800,
(301) 858-3800
1-800-492-7122, ext. 3800 (toll free)
michael.busch@house.state.md.us
fax: (410) 841-3880, (301) 858-3880
Send Governor Hogan a Letter
Since Governor Hogan seems to not understand the preponderance of Hate Crimes that are happening in our state. I've created a list by County of Hate Crimes that were reported by the media. Understand that the list is most likely not complete and if you have anything else (pictures, etc), feel free to use those.  But take up to three links, print the stories and send them to Governor Hogan along with a letter. (As well, feel free to send a copy with a cover letter explaining to the Baltimore Sun or a local paper (including the Washington Post).
Listing of MD Hate Crimes to use
Governor Larry Hogan
100 State Circle
Annapolis, MD 21401-1925
Baltimore Sun
501 N. Calvert Street
P.O. Box 1377
Baltimore MD 21278
Put the letter in your own words, a letter copy and pasted will not have the same impact.
Some things to consider putting in the letter:
He is supposed to be the Governor of all of Maryland and suggesting that he hasn't heard of any hate crimes because the Maryland State police hasn't received any reports is disingenuous at best. Hate Crimes are properly being reported to the local police departments. Just because he hasn't heard of any, doesn't mean they haven't happened.  (Reference the three stories you are sending him.)
Refusing to support Trump during the election was laudable, writing your own father's name in was cowardly. Refusing to take a stand against Trump's racist and white-nationalist appointments now is more than disappointing.  Watching the new administration's actions now with the appointing of Steve Bannon, someone who has given neo-nazi's a voice with Breitbart, Jeff Sessions, an openly racist Senator as Attorney General, and Michael Flynn who is openly Islamophobic as National Security Advisor means that by "giving the new administration a chance" we will be lost by the time this happens. Taking a stand now means standing in support of all of Marylanders, not simply the white, rural voters who are his base.
Make a point of telling him that we are watching him closely and will be making sure that our voices are if not heard by him are at least loud enough to be telling. He has two years to change our minds, elections are coming and at this point, we will be supporting someone who stands up for all of Maryland, not just the racists.
Let's make our voices heard. Not just today, but throughout the next four years.
[the_ad_placement id="after-content"]